Bedizzole Marching Band
We are a group of 60 young and even younger musicians who play in drill shows made up of music and choreographies in great outdoors such as squares and stadiums.
Bedizzole Marching Band entertains and makes the audience enjoy every institutional ceremony, competition, festival, inauguration, national and international event. In 2013 3rd placed in the IMSB Field Parade Competition in Monza.
Aldo Bettini: President and Band Director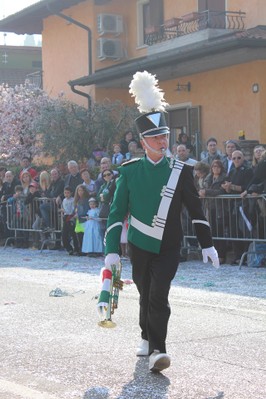 When he read a stave for the first time he was only twelve. Even from the very first lessons he felt a great interest and he understood to have a gift for the music.
When he finished his studies he attended many specialized music courses and in a very short time he became the solo trumpet and the executive secretary of Bedizzole Marching Band. He collaborated with many citizens' bands and music groups of every kind, ballroom dance orchestras and folk rock groups, always with great success.
Then he took up a new challenge: becoming director. He directed parades and concerts and bring with honor our Italian flag to New York, Spain, Holland, Poland, Austria, Czech Republic, France. He also directed the DRUMS&FANFARE ACADEMY where he taught music.
Latest pride: in 2006 he founded the BEDIZZOLE MARCHING BAND, a group of young and even younger instrumentalists who enjoy themselves with music and choreographies, and study the MARCHING BAND rudiments with great care.

Sections
Ferrante Alfredo
Glisenti Elisa
Rebaicini Serena
Ambrogio Alice
Crup Andrei
Piceni Umberto
Spassini Matteo
Stretti Francesco
Viviani Giulia
Viviani Veronica
Zaffino Chiara
Giovannini Zaccaria
Joannes Federico
Viviani Armando
Ajbikay Gabriele
Bettini Aldo
Bresciani Michele
Casella Sara
Chiappa Valentina
Guatta Michele
Leali Valentina
Levorato Federico
Meesa Patrick
Prandini Loris
Scalvini Matteo
Sigurtà Nicola
Maffezzoli Alessio
Venturoli Giovanni
Alberti Laura
Ferrari Sergio
Leali Bruno
Zanola Lorena Piera
Bottarelli Jacopo
Duina Simone
Levorato Alessandro
Morbini Alberto
Piceni Daniele
Rebecchi Matteo
Liloni Guido
Morbini Giacomino
Pavarini Matteo
Todarello Antonio
Benevenia Sara
Bettinetti Nicola
Bresciani Christian
Lobertini Michele
Marai Laura
Marcazzan Davide
Mondini Marco
Oneda Marco
Pasinetti Mattia
Ragnoli Davide
Zaffino Federico
Arrighini Giulia
Bertagna Silvia
Biemmi Erika
Bona Samanta
Gòmez Vanessa
Nicolla Alessia
Saponi Francesca
Vitali Laura
Association
Council Organigram, CDA list 2015/2016
| | |
| --- | --- |
| President | Aldo Bettini |
| Vice President | Rebecchi Matteo |
| Book-keeper | Viviani Armando |
| Secretarial Staff | Viviani Veronica |
| Minute book | Morbini Alberto |
| Marketing | Chiappa Valentina |
| Office Manager | Bresciani Christian |
| Registry | Duina Simone |
| Archivis | Prandini Loris |
| Cons-Coll Office | Leali Valentina |
| Cons-Coll Marketing | Bresciani Michele |
| | |
| 1st Auditor | Morbini Giacomino |
| 2nd Auditor | Casella Sara |
| 3nd Auditor | Zanola Lorena |