Bedizzole Marching Band
The Bedizzole Marching Show Band is a young group, full of musicians and constantly growing. After 126 years of activity as a musical band, in 2006 it transformed into the group you see today thanks to Aldo Bettini, who had the idea of introducing a type of musical group in the Brescia area that was almost unknown until then. The Bedizzole Marching Show Band immediately began to participate in the events organized by IMSB, achieving excellent results both on a musical and formal level. Among the greatest satisfactions of these young people is that of receiving numerous national and international invitations, which allow them to participate in various types of musical events and to increasingly spread the art of "marching band".
Aldo Bettini: Founder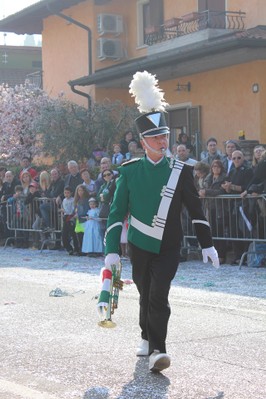 When he read a stave for the first time he was only twelve. Even from the very first lessons he felt a great interest and he understood to have a gift for the music.
When he finished his studies he attended many specialized music courses and in a very short time he became the solo trumpet and the executive secretary of Bedizzole Marching Band. He collaborated with many citizens' bands and music groups of every kind, ballroom dance orchestras and folk rock groups, always with great success.
Then he took up a new challenge: becoming director. He directed parades and concerts and bring with honor our Italian flag to New York, Spain, Holland, Poland, Austria, Czech Republic, France. He also directed the DRUMS&FANFARE ACADEMY where he taught music.
Latest pride: in 2006 he founded the BEDIZZOLE MARCHING BAND, a group of young and even younger instrumentalists who enjoy themselves with music and choreographies, and study the MARCHING BAND rudiments with great care.

Sections
Ferrante Alfredo
Rebaicini Serena
Orsato Nicola
Franzoni Ilaria
Spassini Matteo
Mantovani Anna
Viviani Armando
Morelli Stefano
Leali Valentina
Sigurtà Nicola
Venturoli Giovanni
Panni Sara
Marai Andrea
Mantovani Clara
Rovetta Diego
Alberti Laura
Ferrari Sergio
Leali Bruno
Zanola Lorena Piera
Piceni Daniele
Rebecchi Matteo
Bettinetti Nicola
Bresciani Christian
Pasinetti Mattia
Viviani Veronica
D'addio Rodolfo
Biemmi Marco
Vedovello Emanuele
Biemmi Erika
Pasetti Nicole
Lombardi Rebecca
Rebaicini Adriano
Scalvini Edoardo
Bettinetti Franco
Marai Alessandro
Ragnoli Mario
Band Director: Nicola Orsato Drum Major: Nicola Orsato The Association
Council Organigram, B.O.D. list 2022/2023
| | |
| --- | --- |
| President | Rebecchi Matteo |
| Vice President | Bresciani Christian |
| Treasury Manager | Viviani Armando |
| Secretary | Biemmi Erika |
| Registry and offices | Spassini Matteo |